News
June 2022
GROUP XMAS LUNCH 16TH DECEMBER 2022

The 42nd (and likely last) Compton Group Christmas lunch will take place on Friday December 16th. All former Group members are invited to join after the lunch from 5.30pm at the White Rabbit pub near Gloucester Green (formerly 'The Gloucester Arms'):
https://www.whiterabbitoxford.co.uk/


June 2022
HAOTIAN CHEN WINS PRIZE FOR BEST LECTURE AT GREAT WESTERN 2022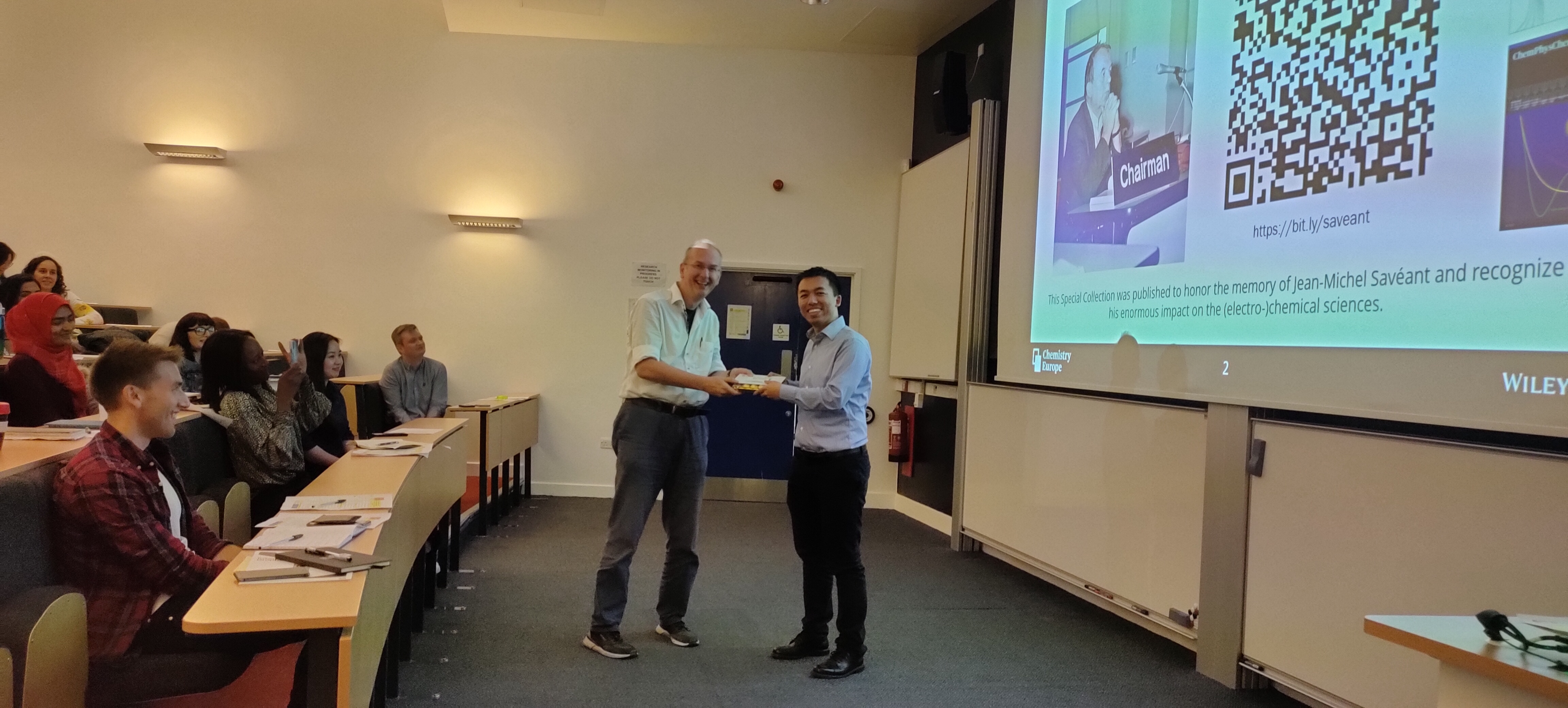 The annual 'Great Western' one day conference for graduate students in electrochemistry resumed in person for the first time since 2019 at Bath on June 13th with no less than 20 talks representing the scientific diversity of UK electrochemistry. The best talk was judged to be from Haotian Chen who lectured on Physics Informed Neural Networks (PINNs). The photo shows Haotian receiving his prize from Professor Frank Marken.

May 2022
HAOTIAN CHEN WINS 2022 SHEELAGH CAMPBELL MEMORIAL AWARD

Haotian Chen, a 3rd year D.Phil. student, has won the 2022 Sheelagh Campbell Memorial Award of the RSC Electrochemistry group and the Industrial Physical Chemistry group. The award for GB and Irish doctorate students is judged on one paper published during their PhD studies, which in Haotian's case was entitled 'Predicting voltammetry using Physics Informed Neural Networks' and published in the Journal of Physical Chemistry Letters. Haotian will give a lecture based in part on this work at ELECTROCHEM2022 scheduled for September 2022 in Edinburgh.